TAMPA, Fla. — Tampa Bay Lightning goaltender Andrei Vasilevskiy was selected as the 55th winner of the Conn Smythe Trophy as Stanley Cup playoff MVP by a panel of Professional Hockey Writers Association members.
Collecting his league record fifth consecutive shutout in a series-clinching game, dating back to last year's Stanley Cup Final in the Edmonton bubble, Vasilevskiy garnered 15 first-place votes among 18 available ballots. He edged teammate Nikita Kucherov, who led the postseason in scoring with 32 points, by an 82-60 voting point margin.
Lightning forward Brayden Point finished third, while defenseman Ryan McDonagh and Montreal Canadiens netminder Carey Price also received votes.
Vasilevskiy became the first goaltender to win the Conn Smythe since Los Angeles' Jonathan Quick in 2012. He is just the first European-trained goaltender to capture the award, as all 14 previous winners were born and trained in the United States or Canada.
Vasilevskiy, 26, was between the pipes for every second of the Lightning's playoff run for the second year in a row. He started all 23 games, posting a 1.90 goals against-average and a .937 save percentage, becoming the first goaltender since Ken Dryden (1976-1978) to win the Stanley Cup in consecutive years while allowing an average of under 2.00 goals per game.
In the interest of full transparency, the PHWA has once again revealed each individual ballot for all 18 Conn Smythe voters.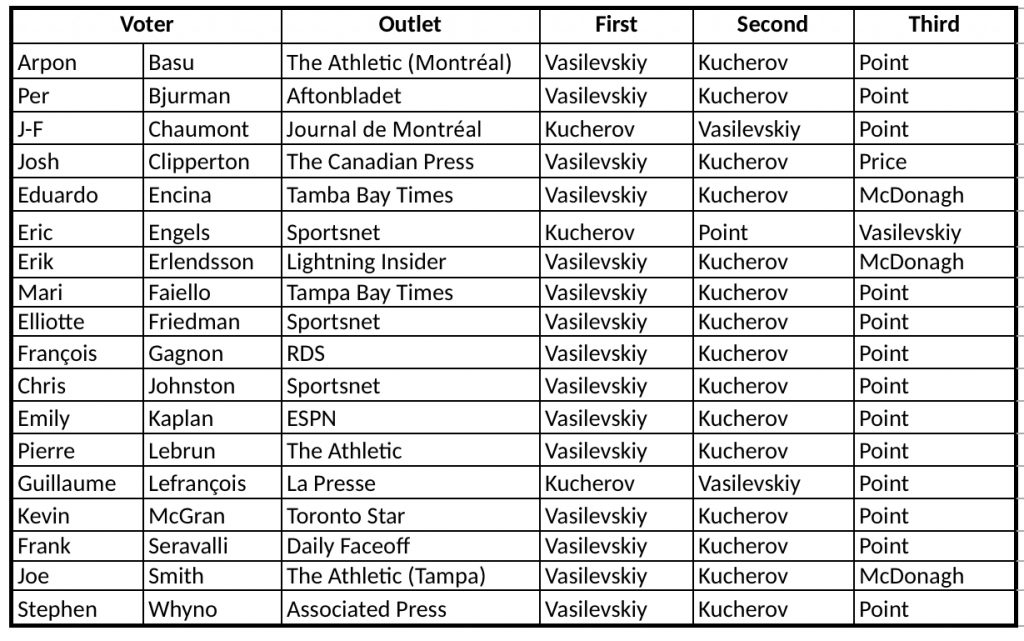 Voting point totals:
Andrei Vasilevskiy, Tampa Bay: 82 points (15 first place)
Nikita Kucherov, Tampa Bay: 60 points (3 first place)
Brayden Point, Tampa Bay: 16 points
Ryan McDonagh, Tampa Bay: 3 points
Carey Price, Montreal: 1 point
Points were awarded on a 5-3-1 basis and the deadline to submit ballots occurred with 10 minutes remaining in Game 5.