Ottawa Senators goaltender Craig Anderson, Anaheim Ducks left winger Andrew Cogliano and Carolina Hurricanes center Derek Ryan have been named finalists for the Bill Masterton Memorial Trophy.
Members of the Professional Hockey Writers Association (PHWA) vote on the trophy which is awarded "to the player who best exemplifies the qualities of perseverance, sportsmanship and dedication to hockey,"
Each local chapter of the PHWA nominates a player at the end of the regular season. The top three vote-getters are selected as finalists for the trophy.
The winner will be announced Wednesday, June 21, during the 2017 NHL Awards show at T-Mobile Arena in Las Vegas.
The finalists in alphabetical order:
Craig Anderson, Ottawa Senators
While this has been a strong season for the Senators' goaltender on the ice, it's been a difficult and trying year off it since learning his wife, Nicholle, was diagnosed with a rare form of throat cancer in late-October while the team was in Vancouver.
After leaving the Senators briefly to be with Nicholle, Anderson returned to the club at her urging on Oct. 29th when the club lost backup goalie Andrew Hammond to a groin injury in Calgary. Though, Nicholle was still trying to deal with the shock of the diagnosis, she told her husband "your team needs you" and he had a memorable effort on Oct. 30th in Edmonton.
Anderson made 37 stops in a 2-0 shutout win at Rogers Arena.
From Postmedia's Bruce Garrioch:
After taking a leave of absence for two months to be with Nicholle while she underwent treatment at a New York hospital, Anderson returned to the Senators in late January and resumed playing last month. He played his 500th career game Saturday and set a franchise record with his 147th win on March 11.
Part of the reason Anderson has been able to focus on his job is the support that Nicholle is getting from family. She's undergoing another round of chemotherapy treatment near their home in Coral Springs, Fla., but her attitude is inspirational (as evidenced by her blog) and she's shown incredible courage.
"She's been strong through this time. It's definitely been hard on her and our family and when times get tough you find strength — inner strength — that maybe you didn't believe you had," Anderson said.
—
Andrew Cogliano, Anaheim Ducks
Cogliano is a four-time Master Trophy nominee with the Ducks, and is the NHL's reigning Ironman at 779 consecutive games, having never missed a game in his NHL career. Only one player in NHL history has played more consecutive games to start his career: Doug Jarvis (the NHL's all-time ironman overall with 964 consecutive games from 1975-88).
On March 22 vs. Edmonton, Cogliano surpassed Craig Ramsay (776) for the fourth-longest consecutive games played streak in NHL history. He recorded his 300th NHL point in the season opener on October 13 against Dallas, and his goal on October 23 vs. Vancouver was the fastest goal ever recorded in Ducks home opener history (0:33).
From the Orange County Register's Eric Stephens:
Fittingly, Cogliano reached his latest milestone with his only other NHL team as the opponent Wednesday night. Along with Lowe bringing him into the Oilers' organization, the winger said then-coach Craig MacTavish also played a big role in showing him what it took to flourish in the league.
Under MacTavish, Cogliano learned the value of nutrition and a dedication to fitness – traits he is religiously devoted to year-round. It also helped that the Oilers were in transition and eager to infuse more youth onto their roster.
"I was able to have a good camp," Cogliano said. "That obviously helped the situation a lot. But I think timing is everything. When you get the opportunity, you have to seize the moment. You have to seize the opportunity.
—
Derek Ryan, Carolina Hurricanes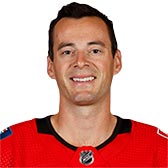 Few players have taken a longer, or more unlikely, journey to the NHL than Derek Ryan, undersized and undrafted, who has finally established himself with the Hurricanes as a 29-year-old rookie.
His journey took him through nearly every level of hockey, from juniors to Canadian universities to the UHL and AHL and Austria and Sweden. He finally got his first NHL shot last season with the Hurricanes, then became a full-time player this season.
From the Raleigh News & Observer's Chip Alexander:
On March 1, 2016, at the Prudential Center in Newark, N.J., Ryan played his first NHL game against the New Jersey Devils. He also scored his first NHL goal against goalie Cory Schneider in a 3-1 victory.
After the game, Ryan said few words were spoken as he gathered with his family. There were, however, a lot of hugs.
"There aren't many who get that opportunity," he said. "Whether you're 19 or 29, it's special and it was special to me."
—
The trophy was presented by the NHL Writers' Association in 1968 to commemorate the late Bill Masterton, a player with the Minnesota North Stars who exhibited to a high degree the qualities of perseverance, sportsmanship and dedication to hockey. Masterton died Jan. 15, 1968 as a result of an injury sustained during a game.
Previous winners:
| | | |
| --- | --- | --- |
| Year | Player | Team |
| 2016 | Jaromir Jagr | Florida Panthers |
| 2015 | Devan Dubnyk | Minnesota Wild |
| 2014 | Dominic Moore | New York Rangers |
| 2013 | Josh Harding | Minnesota Wild |
| 2012 | Max Pacioretty | Montreal Canadiens |
| 2011 | Ian Laperriere | Philadelphia Flyers |
| 2010 | Jose Theodore | Washington Capitals |
| 2009 | Steve Sullivan | Nashville Predators |
| 2008 | Jason Blake | Toronto Maple Leafs |
| 2007 | Phil Kessel | Boston Bruins |
| 2006 | Teemu Selanne | Anaheim Ducks |
| 2004 | Bryan Berard | Chicago Blackhawks |
| 2003 | Steve Yzerman | Detroit Red Wings |
| 2002 | Saku Koivu | Montreal Canadiens |
| 2001 | Adam Graves | New York Rangers |
| 2000 | Ken Daneyko | New Jersey Devils |
| 1999 | John Cullen | Tampa Bay Lightning |
| 1998 | Jamie McLennan | St. Louis Blues |
| 1997 | Tony Granato | San Jose Sharks |
| 1996 | Gary Roberts | Calgary Flames |
| 1995 | Pat LaFontaine | Buffalo Sabres |
| 1994 | Cam Neely | Boston Bruins |
| 1993 | Mario Lemieux | Pittsburgh Penguins |
| 1992 | Mark Fitzpatrick | New York Islanders |
| 1991 | Dave Taylor | Los Angeles Kings |
| 1990 | Gord Kluzak | Boston Bruins |
| 1989 | Tim Kerr | Philadelphia Flyers |
| 1988 | Bob Bourne | Los Angeles Kings |
| 1987 | Doug Jarvis | Hartford Whalers |
| 1986 | Charlie Simmer | Boston Bruins |
| 1985 | Anders Hedberg | New York Rangers |
| 1984 | Brad Park | Detroit Red Wings |
| 1983 | Lanny McDonald | Calgary Flames |
| 1982 | Glenn Resch | Colorado Rockies |
| 1981 | Blake Dunlop | St. Louis Blues |
| 1980 | Al MacAdam | Minnesota North Stars |
| 1979 | Serge Savard | Montreal Canadiens |
| 1978 | Butch Goring | Los Angeles Kings |
| 1977 | Ed Westfall | New York Islanders |
| 1976 | Rod Gilbert | New York Rangers |
| 1975 | Don Luce | Buffalo Sabres |
| 1974 | Henri Richard | Montreal Canadiens |
| 1973 | Lowell MacDonald | Pittsburgh Penguins |
| 1972 | Bobby Clarke | Philadelphia Flyers |
| 1971 | Jean Ratelle | New York Rangers |
| 1970 | Pit Martin | Chicago Black Hawks |
| 1969 | Ted Hampson | Oakland Seals |
| 1968 | Claude Provost | Montreal Canadiens |