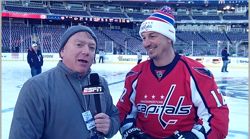 The Professional Hockey Writers Association is made up of writers from a variety of backgrounds. Everyone's relationship with hockey, or how they were drawn to the sport, is different.
Earlier this week, Kelly Erickson caught up with PHWA President, Scott Burnside, to talk about his role with the organization and some of his career highlights.
The PHWA: As the newest president, what does it mean to be elected for this position by your peers?
Scott Burnside: Well, I will try to avoid cliches but it is obviously an honor to have your peers to come to you and ask you to fulfill a role within the organization and to represent the writing community across America and beyond — in terms of our business and how we go about telling hockey stories in North America and around the world. It is an honor. I don't think we can ever say enough about the work that Kevin Allen did in his many years of service. It's a little bit hard to get your head around fulfilling a role for that long and being as dedicated as Kevin was for so long. For anyone who comes into a position where someone of great import has left, it's more than a little daunting. But I will say at the rink of evoking another cliche, working with people like Craig Custance, Mark Spector, and Tracy Myers, and the rest of the executive, it has made coming into this role a lot easier than I might have imagined it would be.
When you took this role, did you have any plans or hopes for the organization going forward?
SB: I think probably the challenges for the PHWA now, than they were even ten years ago, are much different because our jobs, collectively, are so much different — the business is so different — given social media, given the proliferation of team websites and team "reporters," the workplace is a lot different than it was. Everyone knows how the newspaper industry has shrunk over the years. So people who report on the game, report for different masters, like me, we're more website. And the work environment is different because there are different people who go to work now — there are bloggers working independently, or bloggers who write for a chain or group of other bloggers and of course every team now produces its own content. So those are the issues we have to as an organization deal with and navigate our way around in ways we haven't had to in the past. So that's one of the challenges, as we move forward as an organization, how do we make sure that our members do their jobs to the best of their abilities given the changes in the work environment.
What drew you to hockey? Why be a hockey writer?
SB: I grew up in Canada, I grew up playing the game at a very, very modest level, but enjoying it like many of my countrymen I suppose. I was a news reporter for many many years covering crime and different things. I had the opportunity to move to sports in the middle of my career and had the chance to — I started as a sports columnist in Windsor in 1997. It was such a different world than covering hard news. And having such a great affection for the sport, I feel more than blessed to be able to cover the game on a full-time basis now.
What has been one of your proudest moments of your career?
SB: It's a job that does create lasting memories. The people that we work with in hockey are people who share a love of the sport. In many ways it's easy to cover hockey because of the people that are in it. So there was an early moment, covering the 1998 Stanley Cup Finals, when Detroit swept Washington. Steve Yzerman was the captain and he turned and put the Stanley Cup on the wheelchair which Vladimir Konstantinov was brought out onto the ice on, he had been severely injured in a limousine crash literally days after the Wings had won the Cup in 1997. The following June when they won back-to-back Cups and were the last team to do so, that was the moment with Yzerman putting the Cup on the wheelchair — for me that tells you all you need to know about what it means to win the Cup and what it means to be a team, the relationship between the players on those kinds of teams. I have a framed picture of it in my office and that's a moment that will always stay with me.
Just in terms of sheer drama and the atmosphere in which we're lucky to work, being at the Gold Medal game in Vancouver in 2010. That, with Crosby's overtime gold medal goal. I don't know if any of us who were in that building in Vancouver or any people who watched in television, we may never see a game like that again. To have been a part of that, to be sitting in the press box covering it, that's something that will stay with me forever.
Any favorite stories you've written? Or have you ever had a moment where you felt like you nailed a story?
SB: A story that was interesting on a number of levels, I had the opportunity to sit in on the selection process of the U.S. Olympic Team for the Sochi games. Kevin Allen and I were two reporters who were allowed to sit in on the meetings and the conference calls leading up to the selection of that team. When the story came out, it created more discussion than I imagined it would. Some people were unhappy with it and there were some hurt feelings. In the end there was a lot discussion of not just the process of selecting the team, but how the story was gathered and reported. I guess that was something that will stick with me for a long time.
In the end, I hope it revealed sort of the difficult process of naming a team like that, especially for the United States and their evolution of hockey. This process has become not all that dissimilar with what Canada goes through when picking teams for best-on-best tournaments. It was a long time in putting the story together and it was probably the longest story I've ever written. It did generate a lot of discussion on a number of different levels. So I think that's probably healthy.
Do you have any advice for other writers, be they young or old?
SB: I guess I would say that if you want to write about this sport — or frankly anything — what would you want to read about? What interests you as a fan of the game or as an observer of the game? It doesn't have to be grand scheme. It could be, how does a backup goalie prepare for life where he may not play of two or three weeks at a time and then is thrust into the spotlight?
The best stories are the stories that you are interested in yourself, where you want to figure out the answers about a specific topic or person. If you're able to pursue those kinds of stories, I think that generates the best copy. If you're just coming into the business, if you're able to pursue those stories and put those in front of people, they will probably speak to your passion and talent in a way that might set you apart.