EDMONTON — Tampa Bay Lightning defenseman Victor Hedman was selected as the 54th winner of the Conn Smythe Trophy as Stanley Cup playoff MVP by a panel of Professional Hockey Writers Association members.
Hedman's victory will go down as one of the closest Conn Smythe votes ever by the PHWA. The hulking Swede edged teammate Brayden Point by a slim four-point margin, receiving nine first-place votes (9-8-1) to Point's eight (8-8-2).
Teammates Nikita Kucherov and Andrei Vasilevskiy also received votes.
Hedman became the third native of Sweden to win the Conn Smythe, joining countrymen Nick Lidstrom (2002) and Henrik Zetterberg (2008). He scored 10 goals during the Lightning's 25-game run, third only to Brian Leetch (11) and Paul Coffey (12) for most goals by a defenseman in a single playoff. All 10 of his goals were scored during the traditional four playoff rounds, with none coming in the bonus round-robin games.
Perhaps more impressive was the fact that Hedman logged more than 500 minutes of ice time in the playoffs and was only on the ice for 10 goals against, matching his own singular offensive production. Point netted a playoff-best 14 goals, including the Stanley Cup clincher in Game 6.
In the interest of full transparency, the PHWA has once again revealed each individual ballot for all 18 Conn Smythe voters.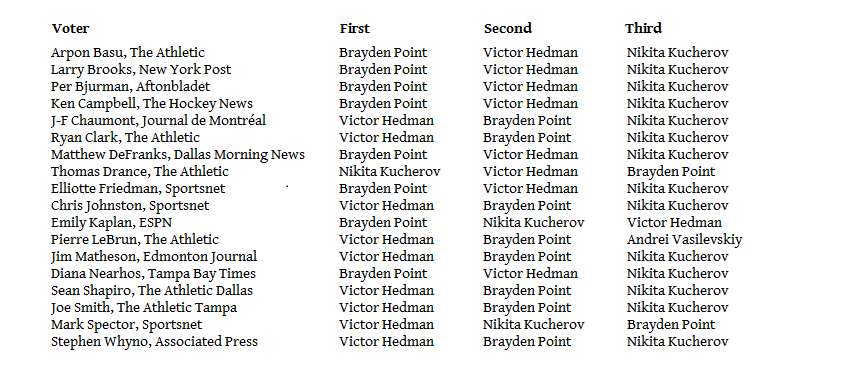 TOTALS:
Victor Hedman 70 points (9-8-1)
Brayden Point 66 points (8-8-2)
Nikita Kucherov 25 points (1-2-14)
Andrei Vasilevskiy 1 point (0-0-1)
Voting was scored in a 5-3-1 points format and ballots were due with 10 minutes remaining in Game 6.