Columbus Blue Jackets left winger Nick Foligno, New York Islanders goaltender Robin Lehner and San Jose Sharks center Joe Thornton have been named finalists for the 2019 Bill Masterton Memorial Trophy, which is awarded "to the player who best exemplifies the qualities of perseverance, sportsmanship and dedication to hockey."
The local chapters of the Professional Hockey Writers Association (PHWA) submitted nominations for the Masterton Trophy at the conclusion of the regular season and the top three vote-getters were designated as finalists. The winner will be announced Wednesday, June 19, during the 2019 NHL Awards show.
The finalists, in alphabetical order:
Nick Foligno, Columbus Blue Jackets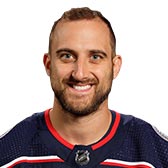 Foligno helped Columbus earn a berth in the Stanley Cup playoffs for the third consecutive year by scoring 35 points (17 goals, 18 assists) in 73 games, while simultaneously attending to health issues affecting two of his three young children. The Blue Jackets captain, 31, is skating in his seventh season with Columbus and ranks third on the club's all-time goals (125) and assists (162) lists.
"I feel like we've become a stronger family and that's how I'm always going to look at it. I think it's made me a better person, a better player and a better leader, hopefully, for this team," Foligno told the Columbus Dispatch. "I'm going to take it all in stride, but my family is my most important thing in my life and (the Blue Jackets are) my second family."
—
Robin Lehner, New York Islanders
Lehner (25-13-5 record, 2.13 goals against average, .930 save percentage, six shutouts) and teammate Thomas Greiss won the 2018-19 William M. Jennings Trophy as the goaltenders on the team allowing the fewest regular-season goals, helping the Islanders post their highest regular-season points total (103) since 1983-84. His best NHL season on the ice came on the heels of revealing addiction and mental health issues in a self-penned article for The Athletic during training camp.
"I am not sharing this story to make people think differently of Robin Lehner as a professional goalie," Lehner wrote. "I want to help make a difference and help others the way I have been helped. I want people to know that there is hope in desperation, there is healing in facing an ugly past and there is no shame in involving others in your battle."
—
Joe Thornton, San Jose Sharks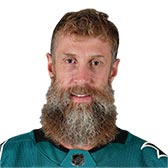 Thornton, 39, overcame major injuries from the prior two seasons, suffering a torn ACL and MCL in both his left knee (2017) and right knee (2018). His rehabilitation work, detailed in the San Jose Mercury News, served as an inspiration to his teammates and coaches. The leader among active NHL players in career assists and points (413 goals, 1,065 assists, 1,478 points in 1,566 games), Thornton concluded his 21st NHL campaign with 51 points (16 goals, 35 assists) in 73 games, helping the Sharks qualify for the Stanley Cup playoffs for the 14th time in the past 15 seasons.
Thornton scored his 400th career goal on Nov. 13 and passed a pair of NHL legends on April 4, leapfrogging Nicklas Lidstrom (1,564) into 12th place on the all-time games list and Steve Yzerman (1,063) into eighth place on the all-time assists list.
Bill Masterton Memorial Scholarship Fund
A $2,500 grant from the PHWA is awarded annually to the Bill Masterton Scholarship Fund, based in Bloomington, Minn., in the name of the Masterton Trophy winner.
Previous winners:
| | | |
| --- | --- | --- |
| Year | Player | Team |
| 2018 | Brian Boyle | New Jersey Devils |
| 2017 | Craig Anderson | Ottawa Senators |
| 2016 | Jaromir Jagr | Florida Panthers |
| 2015 | Devan Dubnyk | Minnesota Wild |
| 2014 | Dominic Moore | New York Rangers |
| 2013 | Josh Harding | Minnesota Wild |
| 2012 | Max Pacioretty | Montreal Canadiens |
| 2011 | Ian Laperriere | Philadelphia Flyers |
| 2010 | Jose Theodore | Washington Capitals |
| 2009 | Steve Sullivan | Nashville Predators |
| 2008 | Jason Blake | Toronto Maple Leafs |
| 2007 | Phil Kessel | Boston Bruins |
| 2006 | Teemu Selanne | Anaheim Ducks |
| 2004 | Bryan Berard | Chicago Blackhawks |
| 2003 | Steve Yzerman | Detroit Red Wings |
| 2002 | Saku Koivu | Montreal Canadiens |
| 2001 | Adam Graves | New York Rangers |
| 2000 | Ken Daneyko | New Jersey Devils |
| 1999 | John Cullen | Tampa Bay Lightning |
| 1998 | Jamie McLennan | St. Louis Blues |
| 1997 | Tony Granato | San Jose Sharks |
| 1996 | Gary Roberts | Calgary Flames |
| 1995 | Pat LaFontaine | Buffalo Sabres |
| 1994 | Cam Neely | Boston Bruins |
| 1993 | Mario Lemieux | Pittsburgh Penguins |
| 1992 | Mark Fitzpatrick | New York Islanders |
| 1991 | Dave Taylor | Los Angeles Kings |
| 1990 | Gord Kluzak | Boston Bruins |
| 1989 | Tim Kerr | Philadelphia Flyers |
| 1988 | Bob Bourne | Los Angeles Kings |
| 1987 | Doug Jarvis | Hartford Whalers |
| 1986 | Charlie Simmer | Boston Bruins |
| 1985 | Anders Hedberg | New York Rangers |
| 1984 | Brad Park | Detroit Red Wings |
| 1983 | Lanny McDonald | Calgary Flames |
| 1982 | Glenn Resch | Colorado Rockies |
| 1981 | Blake Dunlop | St. Louis Blues |
| 1980 | Al MacAdam | Minnesota North Stars |
| 1979 | Serge Savard | Montreal Canadiens |
| 1978 | Butch Goring | Los Angeles Kings |
| 1977 | Ed Westfall | New York Islanders |
| 1976 | Rod Gilbert | New York Rangers |
| 1975 | Don Luce | Buffalo Sabres |
| 1974 | Henri Richard | Montreal Canadiens |
| 1973 | Lowell MacDonald | Pittsburgh Penguins |
| 1972 | Bobby Clarke | Philadelphia Flyers |
| 1971 | Jean Ratelle | New York Rangers |
| 1970 | Pit Martin | Chicago Black Hawks |
| 1969 | Ted Hampson | Oakland Seals |
| 1968 | Claude Provost | Montreal Canadiens |