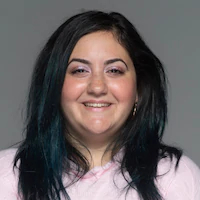 The Professional Hockey Writers Association (PHWA) is proud to announce Isabelle Khurshudyan of The Washington Post has won the 2018 Red Fisher Award, which recognizes to the top overall beat reporter from the 2017-18 season, as voted by her peers.
Khurshudyan was recognized out of a group of nominees which included Mark Lazerus of The Athletic Chicago, Aaron Portzline of The Athletic Columbus, Arthur Staple of The Athletic New York and Ken Wiebe of the Winnipeg Sun.
"First of all, I was really honored to even be nominated with those guys who have way more experience than I do and are really, really great writers and reporters," said Khurshudyan. "But the coolest thing for me is that it's something my colleagues, other hockey beat writers, voted on. It's a most special thing that you're getting recognition from people that you work alongside a lot of times and really respect. That means a lot again."
Having grown up in South Carolina, Khurshudyan wasn't exposed to hockey a great deal prior to being assigned to the Washington Capitals beat in 2015-16.
"They partially put me on this beat because I knew Russian," said Khurshudyan, whose family hails from eastern Ukraine. "They thought it would be an asset when dealing with a really Russian team and a Russian captain (Alex Ovechkin). But haven't really watched many games really my entire life. That was kind of a process my first year. I learned hockey is filled with really nice people from players to coaches to other writers who were willing to help me out and be patient and answer a lot of questions. The cool thing is maybe I had a fresher eye or perspective. A lot of things were interesting to me, and I tried to tell those kind of stories. If I wasn't able to break down systems or something like that, I need to lean on my strength as a writer or a reporter and tell human interest stuff or behind the scenes pieces. There was an appetite for that, especially in Washington."
The ability to converse in Russian has helped Khurshudyan build a professional relationship with two of the most prominent Russian hockey players on the planet in Ovechkin and Evgeny Kuznetsov.
"It's really helpful in part because I think I'm able to understand a little bit of where those guys come from," she said. "During the season, I spent a month in Moscow doing some news reporting working in our foreign bureau there. While I was out there, I went to Ovechkin's family dacha which is a country home. I hung out with his parents and saw where he has a personal memorabilia collection. I could get an interpreter, but I think there's a trust factor where I'm able to communicate with him, his parents. It's a lot easier to understand, to read things while you're there and pick up on details. When I first go on the beat, Kuznetsov's English was a work in progress. I think that helped our relationship in the beginning because I was making an effort to speak to him in Russian."
As one of the relatively few women covering the beat for a major league team, Khurshudyan took great pride in winning the award in only its second year of existence.
"I don't think it's something that's in my head on a day-to-day basis, but I take a lot of pride in being one of the few female hockey writers," said Khurshudyan. "I'm really happy in that maybe other aspiring journalists see that I won this or that I got recognition from my colleagues and there isn't some barrier to being a woman hockey writer. I think I get treated with the same respect in the room as my male colleagues.
"It's never been any sort of obstacle for me in doing my job and trying to write fun stuff people find interesting."
Khurshudyan's work was widely read as she chronicled the Capitals' first Stanley Cup championship last spring.
"Anyone who has covered a Stanley Cup run can attest to the sheer volume of work and the commitment required to serve a winning market's voracious hockey readers," said PHWA president Mark Spector. "Isabelle took that steps further, finding topical, sometimes quirky, and always interesting stories to report – right through the summer where she sacrificed her vacation time to bring readers stories of how well the Stanley Cup travelled as a member of the Capitals.
"She is a true professional, and most deserving of the Red Fisher Award."
Established in 2017, the Red Fisher Award celebrates the lifeblood of the Professional Hockey Writers Association: the beat reporter. Unlike the Elmer Ferguson Award, which is more of a career achievement, the Red Fisher Award is meant to recognize the traveling beat reporter who has shined in a given season with daily excellence in writing, reporting, breaking news, breadth of contacts and knowledge of the sport.​​
The award is named in honor of Red Fisher, one of the most powerful and influential figures in hockey. Fisher blanketed the National Hockey League for 58 consecutive seasons (1954-2012) and is the PHWA's No. 1 card holder as longest-serving beat reporter. He chronicled 17 of the Canadiens' 24 Stanley Cup championships, capturing three Canadian National Newspaper Awards, along with becoming the second media honouree in the Hockey Hall of Fame in 1985.
History of the Red Fisher Award:
2016-17 – Michael Russo, Minneapolis Star-Tribune
2017-18 – Isabelle Khurshudyan, The Washington Post