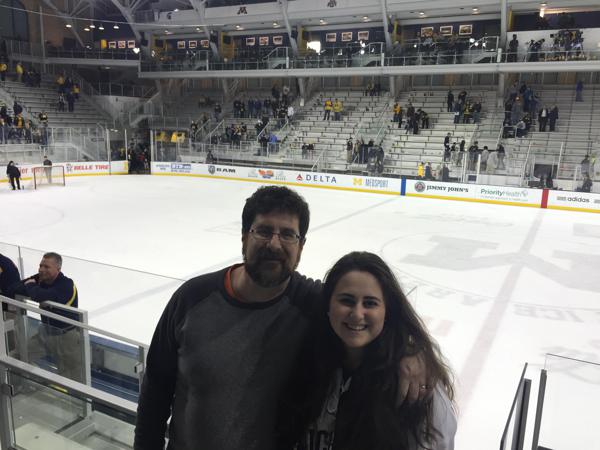 The Professional Hockey Writers Association is proud to announce Sylvanna Gross as 2017 winner of the Jim Kelley Memorial Scholarship.
Gross is the daughter of PHWA member and Bergen (N.J.) Record reporter Andrew Gross, who has covered the Devils and Rangers since 2001. Despite falling short in the inaugural contest one year ago, Gross entered again this summer determined to win.
"The children of writers tend to have a knack with words, so I wasn't disappointed participating last year and not winning because I knew I was up against strong writers," Gross said. "It made me work harder this year and spend more time tightening up the narrative. It is a surprise to me that I won, and I'm very thankful I did."
Gross garnered the first place vote on five of 11 ballots. The 15-entrant field was so competitive that the PHWA decided to offer second and third place awards for the first time.
Ellen McGran, daughter of Toronto Star reporter Kevin McGran, was awarded second prize and Chris Wyman, son of Winnipeg Sun sports editor Ted Wyman, took home third place honors. All essays were read blindly with all references redacted to ensure unbiased voting.
Gross, just 20, is pursuing a Masters of Science in Marine Systems from the University of Edinburgh in Scotland beginning this fall. The Suffern, N.Y., native graduated from the University of Michigan last spring with a Bachelors degree in International Studies, with minors in the History of Art and Oceanography.
While in Ann Arbor, Gross spent all three years covering sports for The Michigan Daily as a third-generation college newspaper reporter, but knew that wasn't her true calling.
In fact, Gross said she has known since fifth grade that she wanted to dedicate her life to the marine world and law.
"Which is a little embarrassing, because I think it comes off as too intense sometimes," Gross said.
That's why she is taking this year in Scotland to "slow down my pace a little." While she took the Law School Admissions Test (LSAT) this summer, and plans to enter law school one year from now, she "didn't think many clients would put much faith in a 23-year-old kid lawyer."
Gross was able to graduate from Michigan more than a full year early because she entered college essentially as a second year student with all of the college credits she racked up with high school AP classes. She studied abroad in Spain last summer and spent this summer working as a waitress to save up for her year abroad in Scotland.
After that, Gross plans to begin pursuing her true "dream job" of a United States Supreme Court Justice to "be the next Justice Ruth Bader Ginsburg."
"Realistically, though, I would love to work as an environmental lawyer focusing on ocean and coastal conservation," Gross said. "I would even be happy to work in groundwater law and Native American rights to the Colorado River. Water is the basis for life and in this new era, drinking water is becoming increasingly scare. By the end of my career, I would be content [knowing] that I helped slow or eradicate the fear of losing our water sources."
Whatever path Gross chooses, she moves on to her next adventure knowing her family and the PHWA supports her.
"Both my parents have always been so supportive of me and constantly remind me that you can't plan everything. Sometimes, you just have to jump on the next opportunity," Gross said. "I think as long as I'm actively creating a positive change, I'll be happy."
Gross' winning entry (below) answered the prompt: "Explain what you have learned about perseverance through the way your parent has navigated technological and industry changes throughout their journalistic career."
———
By Sylvanna Gross
I pride myself on being a Good Millennial. I have 90's nostalgia, I can type on my iPhone without looking at the screen, and I can help my grandparents when they want to zoom in on a photo I show them on my screen. My one downfall, though, is that my dad was on Twitter before I was.
While I was growing up the constant clack of my dad's keyboard could be heard everywhere in the house with bursts of booming words as he did interviews or radio shows. He moved from desktop to laptop, from laptop to laptop, and the clack expanded to include dull thuds as his hands moved from his computer to his phone. Recently the clack and thuds have expanded once more to include clear articulation as my dad shoots three- to four-minute videos going further into depth about his written subject. These sounds are now what define sports journalism.
My father races against an unwinnable 24-hour news cycle. When he is at a game he is tweeting, blogging, writing a sidebar and a game story. When he is at home he is tweeting, blogging, shooting a video, writing a midweek and going to practice. When he is on the road he is tweeting, blogging, writing and trying to make it back to his hotel room for a measly three hours of sleep before he goes to the next city. It used to be that sports journalism was a job that a writer could pick up and put down at night. Within my lifetime, the industry has changed so that sports journalism is a lifestyle with constant updates that buzz on phones and beg to be tweeted out.
In college, I became a third-generation college newspaper reporter when I joined The Michigan Daily. Within the three years of studying for my Bachelor's degree, I saw both a Social Media section and a Video section pop up in our newsroom. This, coupled with my experiences growing up, has grounded me in understanding the need for flexibility. During my college tenure, everyone in our newsroom had to relearn their approach to reporting. The new paradigm is rapidity over reporting; things can be edited and confirmed later. It is quantity over quality; the more we pop up on someone's newsfeed the better our chances are at attracting advertisers. It is a microcosm for a global shift in the industry in terms of how both the consumer and the journalist must approach reporting.
Granted, the student-run newspaper has a staff entirely made up of Good Millennials. We were all born on the cusp of the Digital Age and – guaranteed – the majority of us have never checked a book out of the school library. Yet my father, who still speaks fondly of typewriters and having to lay out the newspaper's pages by hand rather than on a computer, is more willing to try a new platform than we would be to learn how to use a typewriter. Out of his dedication to his profession, my dad adapted because he loves what he does. He has shown me that perseverance is necessary to continue producing the best content you can.
My father is quick to correct his mistakes online, he is capable of hearing criticism from editors and he is an excellent writer. The one quality that is the most impressive, however, is his ability to adapt. Yes, I think he will always unforgivingly be more dedicated to the written word than his video clips and probably will always bemoan Twitter. His complaints, though, are superficial. My father has navigated this new world of journalism and made it work with few hiccups. He has a loyal fan base and more than a few of his Twitter followers stayed with him when he was re-assigned from the Rangers to the Devils. I think that speaks to my dad's ability to be likable despite his own misgivings about the platform he is using. My dad changed because he had to, but he remains a good reporter despite having to do it. When I head to Scotland to get my master's this fall, or when I get my law degree or when I join an environmental law firm, I will always be more willing than the next person to try something new. I have learned that stubbornness to tradition will not move you forward.
I pride myself on being a Good Millennial. My dad prides himself on having (overwhelmingly) more Twitter followers than I do.
———
History of the Jim Kelley Memorial Scholarship:
The Jim Kelley Memorial Scholarship was established in 2016 to honor the memory of past PHWA president Jim Kelley, a gifted Buffalo News columnist who passed away in 2010 after a brave battle with cancer. Kelley was the 2004 recipient of the Elmer Ferguson Award at the Hockey Hall of Fame for excellence in hockey journalism.
The one-year, $1,500 USD scholarship is awarded exclusively to the son or daughter of a PHWA member who is actively enrolled in college or university-level study.
Winners:
2016 – Paula Duhatschek, daughter of Eric Duhatschek (International)
2017 – Sylvanna Gross, daughter of Andrew Gross (New Jersey)
The PHWA wishes to thank and congratulate all 15 students who submitted an essay for the 2017 Jim Kelley Memorial Scholarship. Best of luck during the school year.
2017 PHWA Scholarship subcommittee:
Kevin Allen, USA Today
Josh Cooper, Freelance / ESPN.com
Sean Gordon, The Globe and Mail
Mike Harrington, The Buffalo News
Isabelle Khurshudyan, The Washington Post
Chris Kuc, Chicago Tribune
Jeremy Rutherford, St. Louis Post-Dispatch
Jonas Siegel, The Canadian Press
Joe Smith, Tampa Bay Times
Michael Traikos, Postmedia News
Adam Vingan, The Tennessean