At the end, the personal effects from my desk and a filing cabinet fit into two banker's boxes, neither bulging at the seams.
The memories, if they weren't abstract, would have filled a moving van.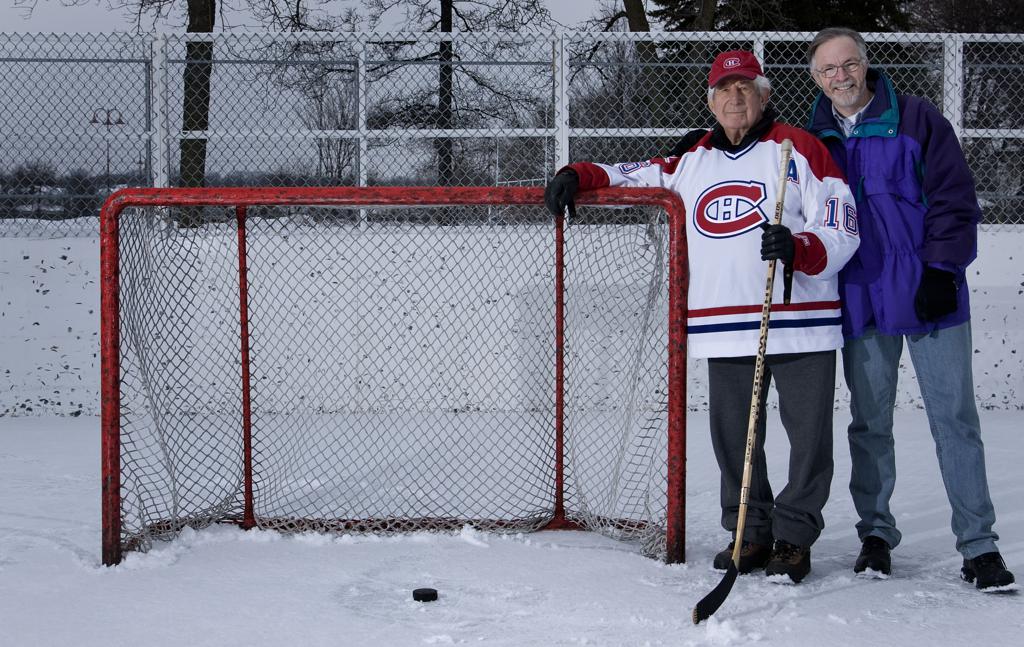 After almost 30 years spent during two stops, after several thousand bylined stories and a few million words, I took my leave from the Montreal Gazette mid-afternoon last Friday.
Amid lengthening shadows stretching down Ste. Catherine St., the city's decades-ago "usual-route" Stanley Cup parade path, I considered my new writing home two blocks to the east and one to the north – the 26th-floor Montreal offices of the National Hockey League.
If there's such a thing as a dream job, I've found it. More accurately, it found me, the NHL signing this unrestricted free agent to a new position – columnist and historian for NHL.com, the league's website.
It took less than a month for me to come aboard, from the moment that NHL executive vice-president Gary Meagher first appeared behind me unannounced on the Bell Centre press gallery in mid-December to my signing with the league on Jan. 14.
Printing ink forever will be in my blood. I was 18 when I began in newspaper journalism 40 years ago this month with the since-shuttered weekly News & Chronicle in the suburbs of Montreal, but digital is very largely the present and absolutely the future of the news business.
My talks with the NHL snowballed, first with Meagher, then with NHL senior vice-president John Dellapina. And as they did, the idea of a change in path so deeply into my newspaper career became less a leap of faith than it seemed a fascinating challenge, coming at a time in my life when many journalists are signing off on their own, or unceremoniously being kicked to the curb by the bean-counters.
In the vernacular of baseball, the NHL's pitch was in my wheelhouse.
The league will mark its centennial in 2017, one hundred years of glorious history to celebrate. Entirely comfortable breathing arena air and sifting through musty files, I will be unspeakably happy in the NHL's archives, profiling the legends and revisiting the remarkable events of a century under NHL.com editor-in-chief Bill Price.
There will be a focus on today, too. I will attend major NHL events, writing features and columns. I expect I'll do multimedia work as well, something I'd embraced at The Gazette from the day the Internet and newspapers collided.
The evolution has been great fun; it's come a long way from the smudged fingers of changing typewriter ribbons on the manual Underwood I used in my first newspaper job, or the AA-battery-powered Radio Shack computer that was my first laptop.
I arrived at The Gazette in March 1979, eight years after I'd had a 50-paper Gazette route. Jumping in from the weekly Chronicle, I was hired to copy-edit the Sports section of The Gazette's fledgling afternoon edition, born to battle the Montreal Star as the latter returned from a strike whose lingering effects ultimately would bury it.
Eighteen months later, I headed to Ottawa, hired as communications director for Swimming Canada. Soon I'd set off on a journey of a dozen Olympic Games as a press officer, high-performance amateur-sport magazine editor and then, back at The Gazette in 1988, as a writer and Olympic bureau chief for Southam and CanWest during our ownership merry-go-round that today is Postmedia.
I was stunned last week when many dear friends and seasoned, skilled colleagues were sacked in Postmedia's latest cost-cutting, which won't be the company's last. Those who remain, especially those I know at The Gazette, roll up their sleeves every day and do extraordinary work, some with the doomsday belief that their owner is just rearranging the deck chairs on this corporate Titanic. I pray their fears are ill-founded.
There is much about the daily print business I will miss, mostly the gifted writers, photographers, artists and editors who work in the trenches, hitting the bull's-eye of a constantly moving target. Journalists used to call newspapers "the daily miracle." That still applies.
I asked to write a farewell column in The Gazette, a generation of readers still following me solely in print. But Postmedia has banned published goodbyes; apparently, the optics are poor with so many staff having left in recent months – bought out or laid off.
I am grateful, then, that this reflection appears here, on the website of the Professional Hockey Writers' Association, at the generous invitation of PHWA executive vice-president Craig Custance.
Through three decades at The Gazette, I served as a copy editor; as assistant then associate sports editor; as sports editor; and since the late 1990s as a feature writer and columnist.
I have been honoured with awards, the names on them ranging from Queen Elizabeth II to a variety of community groups appreciative of my support.
But the greatest reward is having enjoyed the trust and respect of those about whom I've written. The best part has been sitting with many people for long, deep talks, not necessarily for anything immediate but to salt away material that would add background and context in stories to come, and give me an understanding of what made them tick as people and as athletes.
From my return to Montreal from Ottawa in 1988, I wrote well beyond the sports section, typing occasional book and movie reviews and a handful of editorials while profiling musicians, actors, a Hollywood film director, politicians, even an Italian astronaut.
My work has almost always been focused on the human being behind the public figure. For a profile, it's been about exhaustively researching a subject, the highest praise coming when they would ask, "How did you know that about me?"
The legendary Red Fisher, my friend, mentor and far and away the best of 10 sports editors I had at The Gazette – Red holds PHWA membership No. 1 – taught me almost 40 years ago that there are few athletes who will have a problem with your criticism if you're fair. That's been and remains a guiding principle, my cornerstone.
For me, the Olympic champion was not always the gold medalist; the best interview in the Canadiens dressing room might have been a player who was on the bench when the winning goal was scored.
It might not have been the fastest skater, but rather the long-time driver of the Zamboni who prepares the perfect sheet of ice.
I've enjoyed a privileged vantage point, provided a free seat to be a voice at more remarkable, even historic events than I can count.
I covered the closing of the Montreal Forum, the opening of the Molson (now Bell) Centre, George Gillett Jr.'s sale of the Canadiens to Geoff Molson and his ownership group.
I wrote too many funerals, too many appreciations of the legends who slipped away.
There was Formula One racing, the Masters golf tournament, a Montreal Alouettes Grey Cup victory, world championships in many sports.
I tugged a few blades of artificial turf from the Olympic Stadium carpet before the Expos' final home game on Sept. 29, 2004, that synthetic grass still taped to a mud-rubbed baseball I was given from the hip-pouch of the home-plate umpire that melancholy day.
For a feature story, I became a pro-wrestling referee, then stuck around "freelancing" with the WWE for a few years, the third man in the ring with Hulk Hogan, Macho Man Savage, and other stars of the late 1980s and early '90s.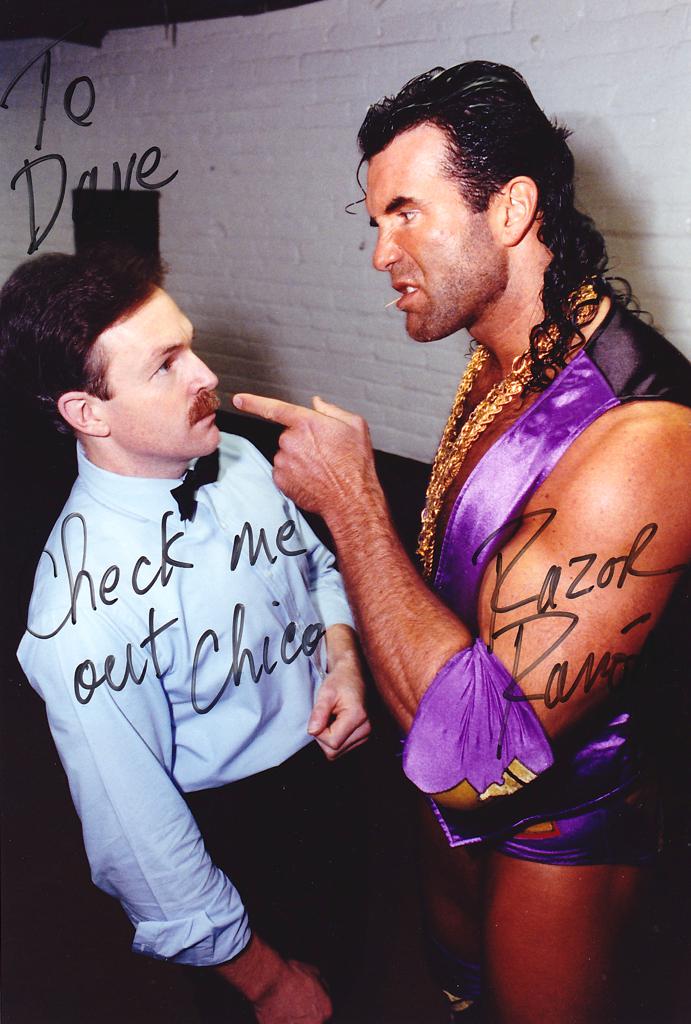 How do you ever forget being thrown over the top rope of a Montreal Forum ring by a wrestler who handles you like a sack of potatoes? But what a nice bonus I earned that night…
Along the way, I wrote a young readers book on the history of hockey in Canada.
I've resisted opportunities to leave Montreal, my home: Within two months in 1998, I declined the sports editorship of the soon-to-launch National Post, and the associate sports editorship of the Globe and Mail.
Their courting convinced The Gazette to spring me from its sports editor's office to return to writing, my first love. Dozens upon dozens of neck-worn media accreditation cards, from around the world, hang on a home-office bookcase. Every one contains a hundred memories.
Sports journalism changed dramatically along the way. The arrival of social media and 24-hour sports radio and TV have fuelled fans' appetite for details that, in the grand scheme, really shouldn't matter.
I know that well, having myself done water-bottle inventory from the press box over the Canadiens bench in Brossard to see who'd not be practising, then rushing to Twitter to relay the "news."
Today, a columnist's sharp-tongued, change-with-the-weather views are often more in vogue with editors than the acid-free observations of a writer who doesn't pound readers over the head with opinion. I clung to the latter, reading and rereading the magnificent work of my sportswriting heroes – Grantland Rice, Herbert Warren Wind, Red Smith, Trent Frayne, Frank Orr, Dave Anderson. More broadly, a favourite remains the late Joseph Mitchell, a brilliant listener who painted masterpieces with his words in the New Yorker.
There was and there remains a place for storytelling, which is why the NHL knocked on my door last month.
I could never count the friendships I've made along the way, too many of these people gone too soon.
Now, I think of those who most marked my Gazette days.
There is Canadiens icon Elmer Lach, the most modest superstar I've ever met. I had made it my mission in the decade that elegant Elmer and I had grown close to drag out of him and share the stories of his legendary Canadiens career.
The incomparable Yvan Cournoyer, Dickie Moore, the larger-than-life Boomer. The Big Three of Larry, Serge and Guy, who happily are still with us.
Mr. Goalie, Glenn Hall, one of my favourite people on this Earth, who treats me like family when he has me to dinner at his home outside of Edmonton.
Olympians and sandlot players, athletes and their coaches. People who have never played the game but who live for it.
And I think especially of two men, both gone, who profoundly marked and almost bookended my Gazette days.
I grew very close to Olympic swimming champion Victor Davis during his glory days with Alex Baumann in the 1980s.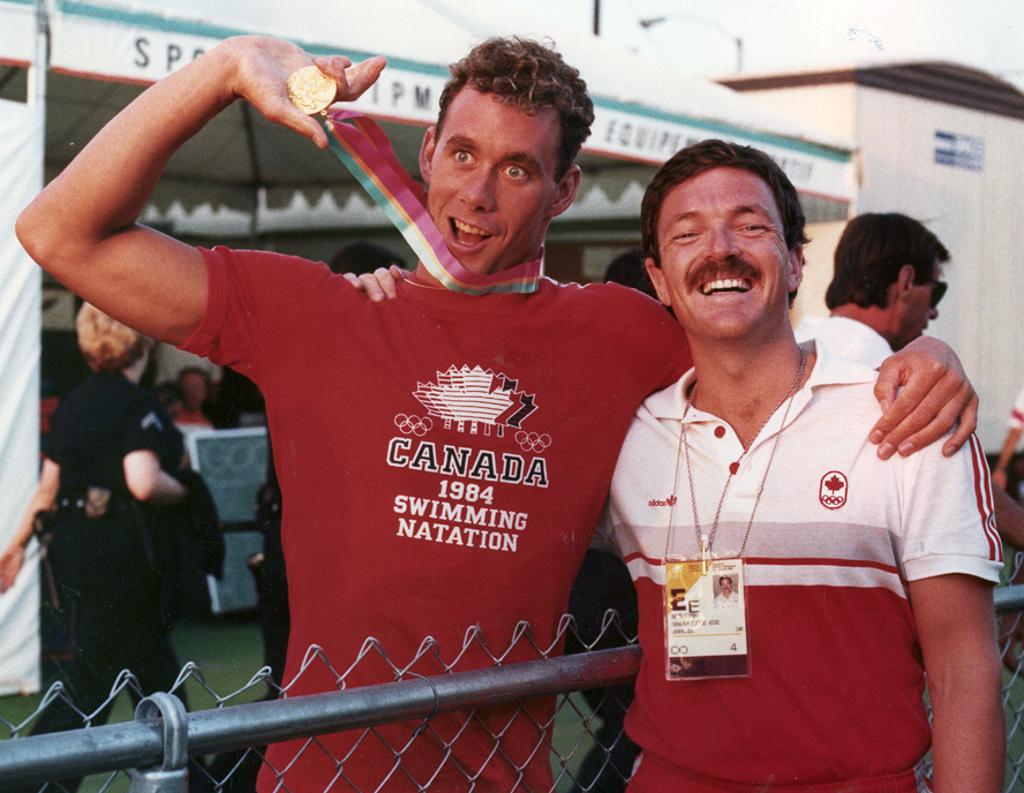 Vic was struck by a hit-and-run driver in 1989, left in a coma until his parents disconnected his life support and donated his organs for transplant. I sat at his hospital bedside for hours, then at his father's request served as a family spokesman to update my media colleagues.
I was there when he died, then returned numb to The Gazette an hour later to write his obituary. I would eulogize Vic at his funeral, then carry his cremated remains to New Zealand, where he'd won his first international gold medal eight years earlier.
In Auckland, during the 1990 Commonwealth Games, I would charter a boat and, with some of his friends, scatter Vic's ashes in the lee of a volcanic island.
And then there is Jean Béliveau, whom I'd worshipped as he played the back nine of his career. I pinched myself as I got to know Le Gros Bill away from the arena, often invited to sit with Jean and his wife, Élise, at their Longueuil home to talk about everything and nothing at all.
Very early on, I stopped thinking "he's too good to be true" because Mr. Béliveau was that good and very much more.
I'd phone him just to hear his baritone accent. His memories, his views on the modern game, then his illness, passing, dramatic Bell Centre visitation and his perfect, heartbreaking funeral, daggers in the heart, were moments I will never forget.
I had agreed to speak by phone with CBC News immediately after Jean's funeral, leaving the church with 90 minutes to write 1,300 words for The Gazette's tablet edition. I was hurrying through Dominion Square, on a straight line between Mary, Queen of the World Cathedral and our office, when I was patched through to host Diana Swain.
Diana asked me to describe the funeral and as I looked back to the church, through the darkness into the floodlights and swirling snow, the funeral cortege pulling away, I replied, "It was the most beautiful thing I've ever seen," and then I fell apart, weeping uncontrollably live on national television, standing in the middle of a blizzard, overwhelmed by grief.
I will never, ever forget Big Jean's friendship, nor his gentle soul, his love of and caring for the game, and the relentless waves of admirers who came at him as steady as the tide – or simply stood back and looked at him, frozen starstruck in their tracks.
So many people and events and stories quilted into 30 years at The Gazette.
The two banker's boxes from my desk contained a few bits and pieces, from Olympics and hockey games, some silliness, some souvenirs of mileposts along the road.
Now, it's on to a fresh, invigorating challenge with NHL.com.
As I stepped into last Friday's late-afternoon sunshine, I took a deep breath and considered my move to the NHL, the governing body of the North American professional sport that, since I had a Gazette paper route, has been near the centre of my life.
At that moment, I felt as though I was standing beneath a tree that had just been hit by lightning. Not only had I survived the strike, I had absorbed its million volts of energy.