Dillman Committee names this season's top PR staffs.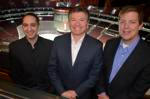 The PHWA is proud to announce that the Dallas Stars and Philadelphia Flyers are this season's recipient of the Dick Dillman Award, given annually to the top PR department in each conference.
The Flyers win ends a two-year streak for Matt Chmura and the Boston Bruins PR department and is Philadelphia's second Dillman award in four years. The tireless work and constant cooperation of senior director Zack Hill and his staff that includes Joe Siville and Brian Smith in a demanding market earned Philadelphia the recognition of the Dillman committee.
The Eastern Conference runner-up was the Tampa Bay Lightning and its outstanding staff of Bill Wickett, Brian Breseman, Trevor Van Knotsenburg and Bryan Burns.
In the West, the Dallas Stars unseated Alex Gilchrist and the Anaheim Ducks' two-year run as Dillman winners. Tom Holy's impact in Dallas has been immediate and the committee also wants to give special recognition to longtime media coordinator Greg Ramirez, who left to take a job in Seattle. The Stars PR department also includes Ben Fromstein and Joe Calvillo.
The Western Conference runner-up was the Calgary Flames, a nod to the hard work and cooperation provided by Peter Hanlon and his staff (Sean Kelso, Greger Buer and Bernie Hargrave) in a competitive and demanding Canadian market.
"These teams absolutely capture the spirit of this award and we're excited to honor them," said Lisa Dillman, daughter of Dick Dillman. "We sincerely thank them for their cooperation and help throughout the year."
The Dillman committee is chaired by Lisa Dillman and includes PHWA executive vice president Craig Custance, Joe McDonald, Kevin McGran, Frank Seravalli, Mike Russo, PHWA treasurer Tracey Myers, Pat Leonard, Eric Duhatschek and Sarah McLellan.
Previous recipients of the Dillman Award
2013-14: Boston Bruins, Anaheim Ducks
2012-13: Boston Bruins, Anaheim Ducks
2011-12: Philadelphia Flyers, Nashville Predators
2010-11: Boston Bruins, Chicago Blackhawks
2009-10: Washington Capitals, San Jose Sharks
2008-09: Washington Capitals, San Jose Sharks
2007-08: Washington Capitals, San Jose Sharks
2006-07: Washington Capitals, San Jose Sharks
2005-06: Minnesota Wild
2003-04: San Jose Sharks
1998-99: Dallas Stars, Edmonton Oilers
1995-97: Mighty Ducks of Anaheim
1994-95: New Jersey Devils