TAMPA, Fla. — Colorado Avalanche defenseman Cale Makar was unanimously selected as the 56th winner of the Conn Smythe Trophy as the most valuable player of the Stanley Cup playoffs by a panel of Professional Hockey Writers Association members on Sunday night.
Makar became just the third defenseman in NHL history to collect both the Conn Smythe and Norris trophies in the same season, both voted upon by the PHWA, joining Boston's Bobby Orr (1970 and 1972) and Detroit's Nicklas Lidstrom (2002). He nabbed all 18 first place votes, the first time there has been a unanimous winner since the PHWA began releasing Conn Smythe tabulations five seasons ago.
Avalanche forward Nathan MacKinnon finished second, while teammate Mikko Rantanen edged out six other vote getters for third place.
Over the course of Colorado's 56-day climb to the Stanley Cup summit, Makar posted 29 points, the fourth-most by a blueliner in a single postseason in league history. At age 23, Makar became the youngest defenseman in 52 years to win the Conn Smythe (Orr) and is the youngest player since Chicago Blackhawks Jonathan Toews to be named playoff MVP.
Over the 100-plus year history of the NHL, only six defensemen have led the Stanley Cup champion in scoring in the postseason: Makar (2022), Brian Leetch (1994), Al MacInnis (1989), J.C. Tremblay (1966), Tim Horton (1962) and Pierre Pilotte (1961).
In the interest of full transparency, the PHWA has once again revealed each individual ballot for all 18 Conn Smythe voters.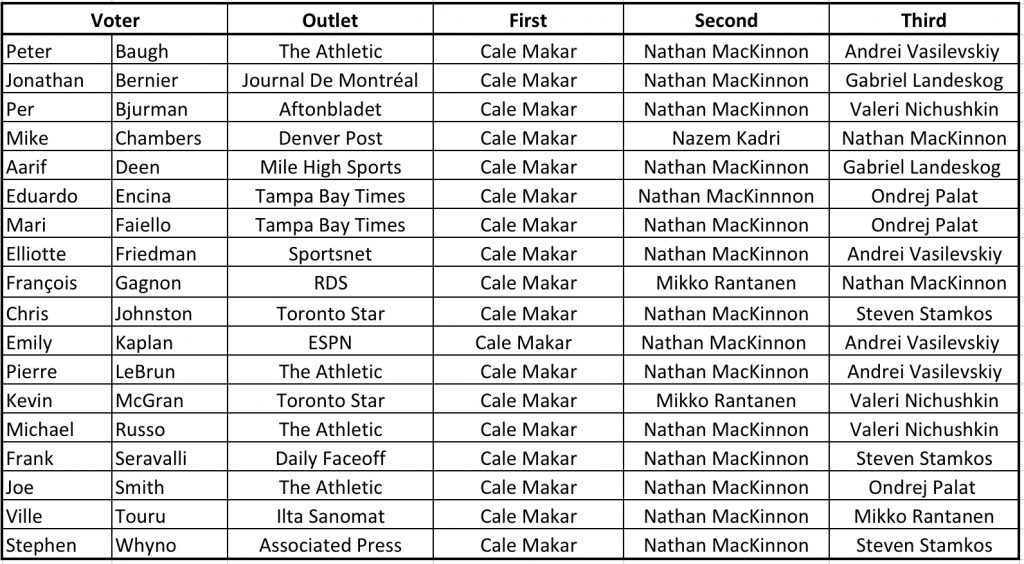 Voting point totals:
Cale Makar, Colorado: 90 points (18 first place)
Nathan MacKinnon, Colorado: 47 points
Mikko Rantanen, Colorado: 7 points
Andrei Vasilevskiy, Tampa Bay: 4 points
Nazem Kadri, Colorado: 3 points
Ondrej Palat, Tampa Bay: 3 points
Steven Stamkos, Tampa Bay: 3 points
Valeri Nichushkin, Colorado: 3 points
Gabriel Landeskog, Colorado: 2 points
Points were awarded on a 5-3-1 basis and the deadline to submit ballots occurred with 10 minutes remaining in Game 6.