LAS VEGAS — Vegas Golden Knights winger Jonathan Marchessault was the overwhelmingly choice for 57th winner of the Conn Smythe Trophy as the most valuable player of the Stanley Cup playoffs by a panel of Professional Hockey Writers Association members on Tuesday night.
Marchessault, 32, became the first undrafted player since Wayne Gretzky in 1988 to collect the Conn Smythe Trophy. By scoring 13 clutch goals over Vegas' playoff run – 10 of which either tied the game or gave the Golden Knights the lead – Marchessault earned 13 of 18 possible first place votes.
Vegas teammates Jack Eichel and Adin Hill finished second and third in voting, respectively, while Golden Knights captain Mark Stone and Florida forward Matthew Tkachuk also garnered votes. Eichel, who paced the postseason in points, earned the other five first place votes.
Over the course of the Golden Knights' 59-day quest for hockey's holy grail, Marchessault tied for the postseason lead in goals (13) and finished second in points (25). He registered at least one point in all five of the Stanley Cup Final games, bridging a total 10-game point streak that spanned the last five games of the Western Conference Final. One of the original six Golden Misfits still remaining with the Golden Knights since the 2017 Expansion Draft, Marchessault has appeared in every playoff game in Vegas franchise history.
Marchessault is one of only 10 wingers to win the Conn Smythe, joining Alex Ovechkin (2018), Justin Williams (2014) and Patrick Kane (2013) in the NHL's salary cap era. The 5-foot-9 native of Cap-Rouge, Quebec, played for three different teams in his first four years in the NHL before being castoff alongside Reilly Smith by the Florida Panthers in the Expansion Draft. Marchessault lifted the Conn Smythe while Smith netted the Cup-clinching goal against their former team in the Final.
In the interest of full transparency, the PHWA has once again revealed each individual ballot for all 18 Conn Smythe voters: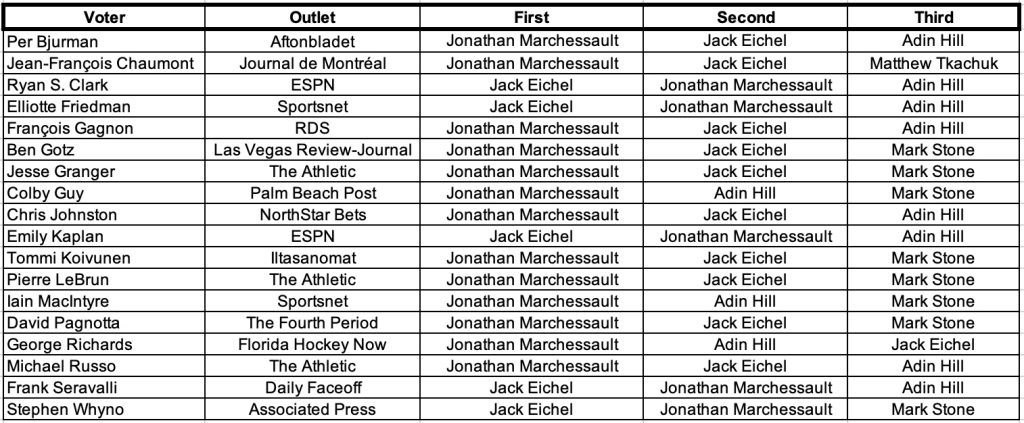 Voting Point Totals
Jonathan Marchessault, Vegas: 80 points (13 first place votes)
Jack Eichel, Vegas: 56 points (5 first place votes)
Adin Hill, Vegas: 17 points
Mark Stone, Vegas: 8 points
Matthew Tkachuk, Florida: 1 point
Points were awarded on a 5-3-1 basis and the deadline to submit ballots to the NHL occurred with 10 minutes remaining in Game 5.