LAS VEGAS — Washington Capitals winger Alex Ovechkin was selected as the 2018 Conn Smythe Trophy winner as Stanley Cup playoffs MVP by a panel of Professional Hockey Writers Association members.
Ovechkin received 13 of a possible 18 first place votes to edge linemate Evgeny Kuznetsov, the playoff's points leader, who garnered the other five available votes. Capitals goaltender Braden Holtby finished third in Conn Smythe voting.
Ovechkin became just the fourth non-North American born player to win in the award's 53-year history.
In the interest of full transparency, the Professional Hockey Writers Association has revealed the ballot of each individual voter for the first time, as mandated by a membership-wide vote in March. Prior to 2017, only the winner of the Conn Smythe trophy was publicly identified.
Voting was scored in a 5-3-1 format and tallied by the NHL with 10 minutes remaining in Game 5: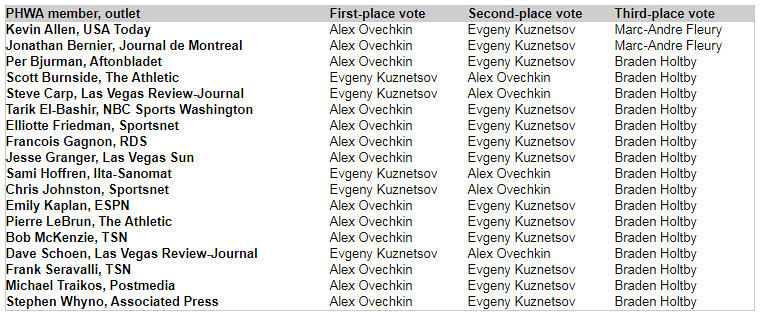 Totals (first place votes):
Alex Ovechkin (Washington) – 80 points (13)
Evgeny Kuznetsov (Washington) – 64 points (5)
Braden Holtby (Washington) – 16 points (0)
Marc-Andre Fleury (Vegas) – 2 points (0)
Members of the Professional Hockey Writers Association annually cast votes to decide major NHL Awards including the Hart, Norris, Calder, Selke, Masterton, Lady Byng and Conn Smythe trophies, as well as end of season All-Star and All-Rookie teams. Founded in 1967, the PHWA strives to promote, preserve and protect media access for journalists covering the NHL.​